Fence Contractors Lake Forest
Durabilt Fence - Building Quality Fences in Lake Forest for Over 40 years
Contact Us
Tel: 847-499-1094
Fax: 847-520-4885
Hours of Operation
Store Hours:
M-F: 7am-3:30pm
Sat: 8am-12pm
Sun: Closed
Welcome to Durabilt
Call us today for a complimentary fence assessment and estimate of your home's fencing project!
Durabilt Fence has a mission to give you a quality fence you need for the price you want. We have been the top choice for fence construction, repair, installation, and replacement in Lake Forest, Illinois and the surrounding area for more than 30 years! It doesn't matter the fence's type, height, or yard shape, Durabilt Fence is here to serve you.  Durabilt will consult with you to be sure that you get the fence your home needs. We'll explain the installation process each step of the way so there are no surprises as the work is being done. When you choose to work with Durabilt Fence you are choosing to work with: 
5 Star Rated Business on Google
5 Star Rated Business on Facebook
Professional Quality Fence Experts with Years of Experience 
A+ Rating with BBB
A Rated Business with Angies List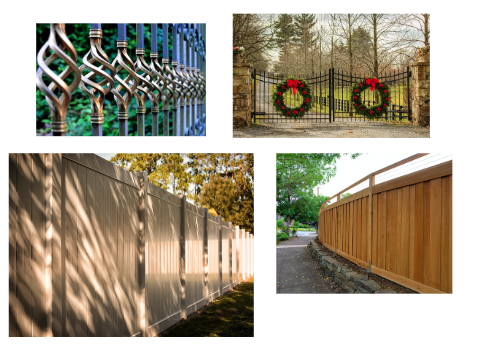 Our Commitment
We promise the best quality of customer service and craftmanship
PVC (Vinyl) Fence Contractors Lake Forest IL.
Vinyl fencing is one of the most highly versatile fencing materials on the market. Vinyl fences are rapidly evolving to function like all other fences out there, from a privacy fence, to a chain link security fence, to a classic picket fence. If you've ever had to endure painting or staining a fence — not just once but many times — you can empathize why the market share of vinyl fencing continues to grow. Once it's installed, a vinyl fence will last for several years with minimal or no maintenance. This convenience makes it a popular choice among homeowners who don't have a lot of spare time in Lake Forest, Illinois. FREE QUOTES AVAILABLE
Examples: Privacy, Picket, Rail Fence
Wood Fence
The traditional wood fencing of the past is still a popular choice with local homeowners. Modern technology and the wide array of choices available can take some credit for that. Modern advanced treatments help reduce problems including warping and rotting wood, making the many styles of wood fencing not only beautiful but practical. Wood fencing comes in several forms and finishes that make it an excellent option for homeowners and businesses. The three main benefits of using wood fencing include aesthetic value, privacy and longevity. Since wood is such an adaptable material, it's highly versatile and can be used to perform several different functions. Call us today for a FREE quote in Lake Forest.
Examples: Western Red Cedar, Cedar Stockade, Spruce Stockade, Lattice, Split Rail, Arbors
Ornamental Fence Service Park Ridge
If you'd like to add style and prestige to your residential or commercial property, ornamental steel and aluminum fences are great options to consider. They're similar in style to traditional wrought iron but ornamental fences are prefabricated from tubular bars instead of being hand-forged. Being prefabricated makes them less costly than traditional wrought iron. For more information about installing an ornamental fence in Park Ridge, call us today and schedule your free consultation at 847-499-1094.
Chain Link Fence Installation Rosemont
The applications for chain link fence are close to limitless. That's because of the chain link's versatility, toughness, resistance to corrosion, flexibility and low installation costs. With good reason, chain link is the most commonly used fence system in today's industrial, commercial and residential fence markets. Chain link allows unobstructed visibility leaving no place for intruders to hide. Call today for Free Estimates & Inspections in Rosemont!
Specialty Fence Contractors in Lake Forest
The versatile nature of fencing has led to the invention of many different types of specialty fences. These specialty fences can be used for many a wide array of applications. Whether you need to contain animals or keep roads safe for travel, there's a fence that we can install for you to meet your project's needs. Manufacturers are constantly developing new improvements to these products and they become even more useful in everyday life.
Examples: Tennis Court Fence, Barrier Gates, Guard Rails, Pipe Railing, Garbage Enclosures, Oak Horse Fence, Post & Chain, Gate Operators/Access Control, Temporary Fence, Inside Factory Enclosures, Pool Fence
Privacy Decorative Slats
At Durabuilt, our Privacy Decorative Slats are constructed to withstand to the following conditions and elements: inclement weather, road dirt, sand, salt water, most acids, alcohol, ammonia, alkaline, petroleum distillates and common environmental pollutants. 
Examples: Bottom Lock, Top Lock, Industrial Pre-Woven, HedgeLink,™ Safety Top Cap,™ Winged Slat, LiteLink,™ FinLink®, Fence Weave®,